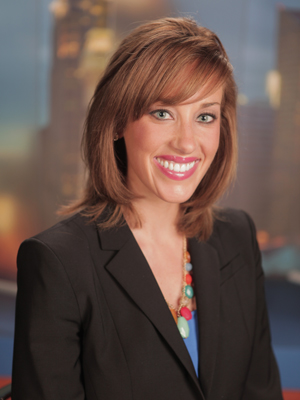 Follow Nicole Pence on Twitter and you'll be introduced to her favorite quote: "The man on top of the mountain didn't just fall there."
Pence, the newest member of the WTHR team, discovered it in a book of quotes years ago while attending a cross-country running camp. It quickly turned into a joke among friends who offered different scenarios of how the man could have ended up on top of the mountain. But jokes aside, Pence loves the meaning.
"They knew that really embodied what I believe, what life's all about," she said. "You don't get anywhere if you don't climb and I think it's a good reminder to people that you can want this or want that…but you're not really going to make it there unless you literally work hard."
Working hard, though, isn't a problem for Pence, whose career has been full of impressive stops and Emmy nominations. The Columbus, Ind., native took an interest in journalism as a way to combine some of her high school interests, which included participation in show choir, theater and student assembly.
"Somehow I thought all of that could go into one," she said.
While studying at DePauw University she took on roles at the student-run radio station, 91.5 WGRE, eventually becoming the general manager her senior year. Radio journalism was her main interest, but she switched to a focus on television toward the end of her college career, embracing the opportunities of being a general assignment reporter.
"I get to dabble in a bunch of different things. One minute I'm doing a story on 50 Shades of Grey, the next minute I'm breaking news on a fire, the next minute I'm doing some hard news, trying to investigate something. So that was good for my personality," she said. "And I really love people. I love talking to people, I like to listen to people."
After graduating from DePauw in 2006 Pence took a job as a reporter for Indiana's NewsCenter in Fort Wayne.
"I'm a hometown Hoosier. I didn't want to leave Indiana. But at the same time, in television you go wherever the job is, so I was very lucky to get my first job in Fort Wayne," she said.
Aside from keeping her close to home, the job in Fort Wayne proved to be a rewarding learning experience as she launched her professional broadcast career. Two years later she moved on to Lexington, Ky., where she co-hosted LEX-18 News at Sunrise, the number one watched morning show in the state, five days a week.
Pence loved her three-and-half years in Lexington, but the opportunity to return to Indianapolis was an easy decision.
"WTHR is an amazing, amazing station," she said. "Of course I wasn't going to say no."
Joining the WTHR team as the Weekend Sunrise anchor and reporter has been a dream job, but it's not without a learning curve. Though a native Hoosier, she's never lived in Indianapolis and has spent almost four years out of state, meaning figuring out what her new community wants to know and is interested in is a new challenge. Fortunately she has a little help.
"I have great people at WTHR guiding me so I'm able to figure that out," she said. "They've all been very welcoming to me."
On the other hand, interacting with people in the community is also her favorite part of the job.
"It's so much more rewarding as a journalist if you do a story that somebody ends up emailing you afterwards saying, 'That piques my interest,' or 'Thanks for that story,' or 'Have you thought of this?' I just love my job because every day I'm learning," she said.
Outside of the station Pence is busy discovering the city and developing new favorite pastimes like running on the downtown canal while taking in the sounds of the city. In addition she has three classes left to finish her Master's degree in Public Administration with an emphasis in Public Policy at IUPUI.
Time for family is a top priority. Her parents and three siblings are all within 40 minutes, and time with them is one way she likes to unwind.
"If you're around people who really know you, that's always comforting, and you can just kind of relax and kick back," she said.
Pence's interests include history and travel.
"I would live in Spain tomorrow," she said, noting she spent time studying abroad in Segovia during college.
But she counts Egypt as one of her favorite places, particularly for the historical connections. "Nothing's more thrilling than learning about history," she said.
Just two months into her new job Pence is already making her presence known in the Indianapolis media scene. The Indiana homecoming and reconnecting with her roots has made the move especially rewarding.
"Really for me what I've rediscovered is how great the people are here," she said. "I mean this is home, these are Hoosiers, and I can relate to them and I hope they can relate to me."