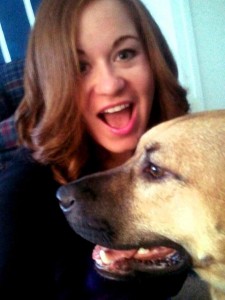 Nikki Reed regularly entertains Indy as the 99.5 WZPL DJ for the 2PM-7PM time slot. Writer Matthew Conroy chatted with her about her path to radio, the Nikki blog, her dog Marbles…and dinosaurs and Patrick Swayze. Obviously. Here's what happened:
Ok, so how does one get to be on the radio in the middle of the afternoon?
Well, it's kind of a funny story. I came here from Michigan to go to college at the University of Indianapolis on a theater scholarship and went about two years into my theater degree when I went "OH LOOOOORD, I don't think this is for me." So then I decided to become a very famous TV news anchor and I talked too much in my TV news anchoring things in college. I was just chatty Cathy all the time and I had a really cool professor who used to yell at me for talking too much…And one day I was talking again and he said "Nikki, come over here," and he just kind of went, "I'm going to put you in radio." So, he put me into radio classes and I loved it so I took a lot of management positions for our college radio station, worked a lot of small town Indiana jobs and just happened to be finishing up with one job when…I shot an email [to WZPL] and said "If you're looking for anybody…" and they were. They were looking for a girl so it was…divine intervention probably. So yeah, that's how I got here. I interned in this job with Kelly McKay [formerly a host on WZPL, now at www.thekellymckayshow.com] when I was a senior in college [in 2007] so I interned at this exact spot before I ever got this job.
So what's the best part of being on the radio?
I love the people. It's so interesting, you know, getting to talk to thousands of people every day but I am also talking to a wall in here. So to go out to events and have these people who you speak to every day come up and you get to put a face to whom you are speaking to; it's literally my favorite thing. We get to do a lot of fun stuff, we get to go to a lot of concerts and events but I just love shaking hands with the people.
What's your favorite part of your own show?
My favorite part of my own show?!? Good question. Answering the phones. I don't get as many phone calls as the [Smiley] Morning Show does but I love when they call. People say, "I just have to vent to you." They don't make it on air half the time because there's too many curse words but people will just have a bad day and call in and they'll say "[Nikki makes a sound that is a cross between a dog barking and the school teacher from Peanuts lecturing]" and I'll just say "I know. I know how you feel." And they're like "Thanks!" and that's it.
What's the craziest call you've ever had?
Well, I've been called some not so nice words before. I could tell you the story without using the language that the man used. I did this story about these people who were trying to smuggle…meth inside of some food product. So I made a joke, something like "They should have put it in Mountain Dew, it would have sold better." Well, this man called in and said that he had kids in the car and that I was encouraging his kids to do meth. And I said, "No, I don't think you quite understood what I was saying, sir. I was simply implying that meth heads love Mountain Dew, not that your children are doing meth." So the guy yells at me for a few minutes and I said to him, "I'm sorry for offending you, that was not my intent. I was just trying to make a funny correlation." And he's still yelling and says, "I'm going to call your boss." So I said, "You go right ahead. I'll give you his name and his phone number, you are absolutely welcome to do so." He got flustered by the fact that I said he could call my boss. So he called me an "ignorant [expletive] [expletive]" and slammed the phone down. But his whole reason for calling was because his children were in the car and I was saying offensive things so then called me those words with his kids in the car.
Complete irony right there.
Right! So that was a good day.
I think you won that one.
I think I did, too.
Tell me about Nikki's Holla-Tastic Blog-O-Ganza!

YES!!! The blog started out completely void of the pictures I drew. I was just writing about my life. I feel like my life is a bit of a cartoon. I couldn't even tell you when it started but I think I had a job where I had a lot of extra time to kill so I started drawing pictures because I couldn't find Google Images that matched what I wanted…It kind of went nut balls from there. I just do a new cartoon every day. There's cartoon Nikki. I include my family. They don't live around here but my dad is a sailboat captain so he's The Captain and my brother, Mike, who has a gross beard so I call him Beardsley McBearderson. I can't believe I get paid, I mean they don't technically pay me to draw the pictures but they allow they allow it be part of my job so in a way, I get paid to do it.
How'd you end up doing it in MS Paint because, you know, that's like 20 years old now?
Yeah, I know! It was really the only thing that the computer I started on had. I don't even like the newer version of MS Paint. My computer at home has it and it has all these calligraphy pens and stuff. I can't use it. It doesn't make the pictures the same. I have to use the old version of dumpy MS Paint so the cartoons all look the same.
Well, I hope [the old computer] never stops working for you then.
I hope not! I'm going to be buying old MS Dos computers off of junkyards.
Your bio on the WZPL site says that you like to volunteer with Big Brothers Big Sisters of Central Indiana. Why do you volunteer?
I started with Big Brothers Big Sisters–gosh, it's almost been three years now–simply because I graduated college and I wasn't as busy as when I was in school. And I love kids. I love hanging out with kids. I don't have family around here so it started to get creepy when I would meet people with small children and I would be like, "Anytime you want me to take them to the zoo." That was inappropriate. So I had a friend who was working for Big Brothers Big Sisters so he said I should check it out and sure enough, it was the easiest thing for me to give back. The kids are so cool. It takes no time at all. My little sister and I have been together for two years now. Before her, I had another little sister. There's nothing better I could do with my spare time. I could go to bars, I could go to meet people but if I've got two hours on a Sunday, you better believe I'm going to be spending it with her.
What's your favorite thing to do with [your little sister]?
We love going to the movies.
What was the last movie you two saw?
Last movie we saw was Hunger Games. She's 15, and we got parental permission but the rule was she had to read the book because she wanted me to take her to the see movie. As soon as she finished the book she was able to go see the movie with me.
You're on the University of Indianapolis Alumni Board as well. Talk about that and how college has shaped you as a young professional?
…I could talk about that school all day long…In the instances where I was jumping majors but still trying to keep a scholarship afloat, I had a handful of professors go out of their way to adjust things so I could finish in four years, keep my scholarship, keep my original major, and keep everything I needed to have a radio career. They didn't have to do it. They didn't have to notice these things to notice I had potential there. My career would not be this way if it were not for people going out of their way to help me when they didn't have to. I kind of feel like I owe a lot to that school.  Today actually, they sent out an email that had my picture on it asking young alumni to give money. I go back to speak to the radio classes.  In fact, I was just there speaking at radio classes. Anything they want: billboards, commercials, whatever they want I will do that because of what they did for me. As a result, I was MCing an event and somebody came up and asked if I had ever heard of Alumni Board. I didn't know anything about it so they got on that. It's just a bunch of us getting together once a quarter and seeing how we can best promote the university to the community, to our current students, to potential students, and just give back and build the brand of the University of Indianapolis.
What did you think of Indianapolis when you first moved here?
I loved it. I was in love with it. I reminded me a lot of the Grand Rapids area where I grew up. I always tell people it's a very clean and manageable city so it's not overwhelming by any stretch of the imagination but at the same time there is always so much to do. I've got a sister who lives in New York City and my mom always kind of jokes that she likes to visit Indy better more because there is more to do, in a way. There's always a festival or event downtown whereas in New York City you're just trying to get all over the place. It's just friendly, it's inviting, and it's just gorgeous.
So the love affair is still there?
Yeah, after 10 years, I would say so!
Very serious question now.
Ok, I'm ready.
Let's hear about Marbles.
Marbles! My dog Marbles, I love him. I happened to be walking outside of Moochie & Company…and the FACE (Foundation Against Companion-Animal Euthanasia) Clinic had a booth out there. They were just advertising the spay and neutering but they had brought some animals with them to draw attention. So I was talking to the lady at the booth and telling her… "I really want a dog that's super friendly and loves everybody." And she said, "What about that one?" So I turned around and I didn't see anything. I just saw a group of children. I look and there's Marbles on his back, flat out. All the children are petting him and I thought "That one's for me." So I took him and renamed him. Marbles wasn't his original name.
What was his original name?
His original name was Connor and I wanted to name a dog Sprinkles but I got him home and he did not look like a Sprinkles…but I wanted to name a dog something that was small and in multiples. I don't know why, I just thought it would be hilarious. So I was thinking about all these names and said "What about Marbles?" and he licked my face so I decided that was his name. It's a binding contract in dog language.
So I asked my tweeps to send me (@matthew_conroy) questions to ask you.
DID THEY ACTUALLY SEND ANY?!!?
No, you were the only one.
*GASP*
But now I do get to ask you: what's your favorite dinosaur and why?
My favorite dinosaur is the T-rex! It's cliché but it's just the funniest looking thing with the tiniest arms. Have you ever seen the website, T-rex Trying?
No.
[We look at the site.] I think dinosaurs are hilarious.
Do you remember that Dinosaurs Alive! show when you were a kid where you would go to a museum and they'd have these animatronic robot dinosaurs?
Yeah!
Those things scared the s%!& of me.
I love them. They actually had one that came to [Banker's Life Fieldhouse]. Did you see that one?
No, I saw commercials for it but didn't go. I was too scared.
Oh! You would have been terrified! It was the coolest thing I've ever seen. They reached the top of [Banker's Life Fieldhouse], these things were so big!
That's too big. [Writer's Note: That's what she said.] Where's your favorite place to go in Indianapolis on a Friday (or weekend) night?
I'm a big fan of Kilroy's downtown. You'll catch me there a lot. OPT's [Old Pro's Table] in Broad Ripple. It's pretty fun.
Have you ever watched Inside the Actors' Studio?
Uh huh.
So I've got a couple questions from there I'm going to ask. What's your favorite word?
That's a lovely question. Favorite word? I'm trying to think of one that's not going to incriminate me. I have such a filthy mind. Can we go back to that one?
Sure. What profession other than your own would you like to attempt?
I think I would love to be a college professor.
In what?
In radio. Oh, that probably doesn't count. I should probably switch.
Why would that not count?
Because it's basically in my profession. Just teaching it. Let's do…I would love to be a clay sculptor. Someone who…
Makes things out of clay?
Haha. More like clay statues. Not like pots.
So not like in [the movie] Ghost?
No, but if Patrick Swayze…No, I take that back. I don't like ghosts. He cannot visit.
Even if it really was a Patrick Swayze ghost? Because even I might say yes to that.
I know. But I can't do anything with a ghost. You know what I mean? It's just a tease.
My last question: What is your favorite lyric in LMFAO's "Sexy and I Know it?"
Ohhhhhh! No shoes, no shirt, and I still get service. Wahhhh! Ok, my favorite word, I decided, will be ginger. Let's go with that…You know what it really is? It's crabs. That's why I didn't want to say it. It's totally the wrong implication. But I think it's super funny to say instead of "Oh, crap!" you can go, "Oh, crabs! I forgot!" Or something like that. But it's just going to get me into trouble. So I can't use it.
But if we add that explanation to it…
Well, yeah! Or also, like drawing pictures of crabs is also very funny. The real ones. I think they're adorable. Always funny to draw.
So really they've just been given a bad name?
Because you can't say crabs without people assuming pubic lice.