Last spring Indianapolis native Kristina Knapp decided to devote a little Tumblr blog to her love of cats. The result? A huge following, mentions by name brands, and now, a book in the works. We checked in with the Indy twenty-something about what it's like to run a blog that entertains thousands everyday and how you can help her support a great local cause.
What was the inspiration to start Get Out of There Cat?
I had seen some photos on the internet with captions superimposed on them in the same style as the GOOTC captions. It's called "buzzkilling" and apparently an actual internet meme. I thought that it would be really easy to dedicate an entire website telling cats what not to do, because I have my own cats to provide me with new material. Case in point, Peanut is sitting on my arms right now.
Do you go through submissions yourself?
Yes, I look at every submission. My friend Aubrie helps me out sometimes when I've got a little too much on my plate.
How do you decide which photos make it onto the blog?
Sometimes it just comes down to how good of a caption I'm able to come with. After the 500th picture of a cat in a sink it can get difficult to come up with new material, so sometimes I let them sit in the inbox for awhile or post them on the Facebook page. Sometimes the submitters can suggest captions too that I might not have thought up on my own, so that helps.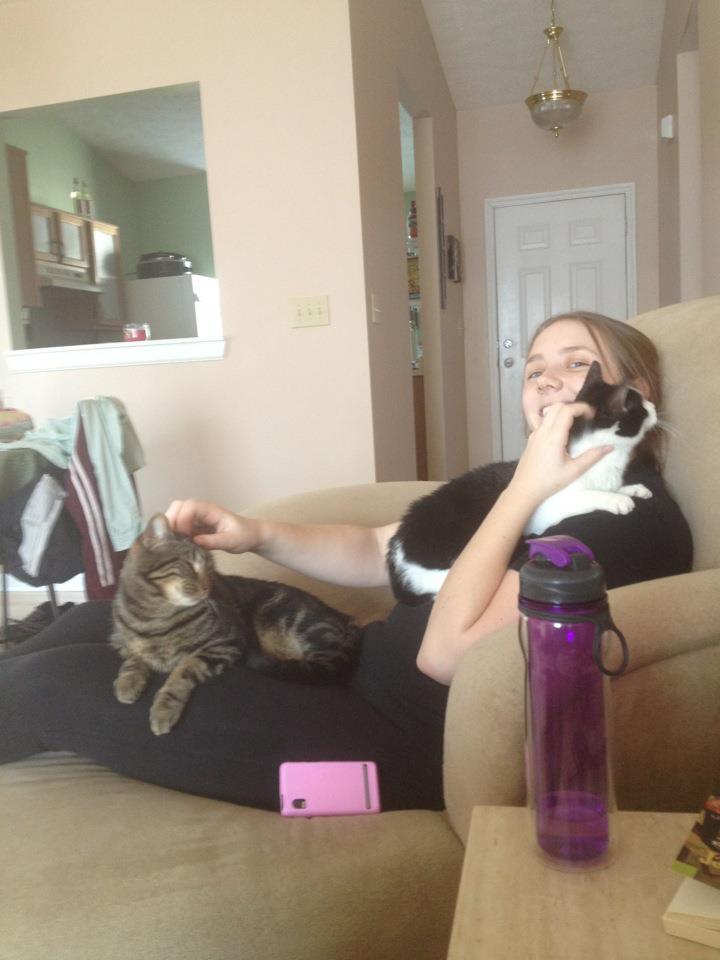 What's been the most surprising aspect of running the blog?
You'd be shocked at how much hate mail you can get for running a blog about cats. But I do my best to keep the captions from getting political or offensive.
Any favorite moments or mentions?
I've been re-tweeted a few times by Purina Cat Chow, so I'm always very excited when that happens. I also just really love it when people message me just to say how happy the blog makes them. It's really nice to know that I'm making people smile.

You recently announced you created a Get Out of There Cat Team for the Indy Mutt Strutt. Tell us more about that event and why you chose to get involved.
Since I do have such a large following, I thought it would be really great if I could get people involved in animal welfare/animal rights causes. Indy Humane is a great organization (we've gotten all our animals from there) and unfortunately are constantly underfunded. I'm hoping that with time, I can start getting people involved in little events around the country (and maybe even overseas), even if I can't be physically present.
How can others get involved with your team?
I'm asking everyone to make a donation if possible; and as an incentive to those who live out of state, for each increment of $5 that is donated, you will be entered to win some GOOTC merchandise. I'm also asking people to join our Pack and bring their dogs to the track on April 28th. To donate or register, please visit register.indymuttstrut.org/goto/getoutoftherecat.

Get Out of There Cat will also be a book. How did that opportunity come about? What has the process been like?
I was actually approached by an agent last fall who helped me to create a book proposal, and then presented it to different publishing companies and then negotiated the contract. The book is set to be published in spring of 2013 and right now I'm collecting the pictures that will be used. I'll also be writing some introductions and of course the captions. I think I'll really get excited when I see the first mock up of how the book is going to look, but when I have a copy in my hands I might pass out.
Are there any places you've YET to see a cat?
Now that I think about it, there's never been a cat on a ceiling fan (though surely not for lack of trying).
How are Ruby and Peanut handling fame?
Peanut is blissfully ignorant of how adorable he is, but we will actually be using a picture of Ruby in the book. We haven't told her yet though; we don't want it to go to her head.
Do you have any future goals for Get Out of There Cat?
Obviously the blog was created to be humorous, and that will always be the main goal. But I would really like to be able to use the website as a vehicle for raising awareness of animal cruelty cases and what we can do to help protect our cats and dogs. I know that a lot of my readers are really concerned with animal welfare and it's encouraging to think that I may be able to help people focus their efforts to make a real impact.